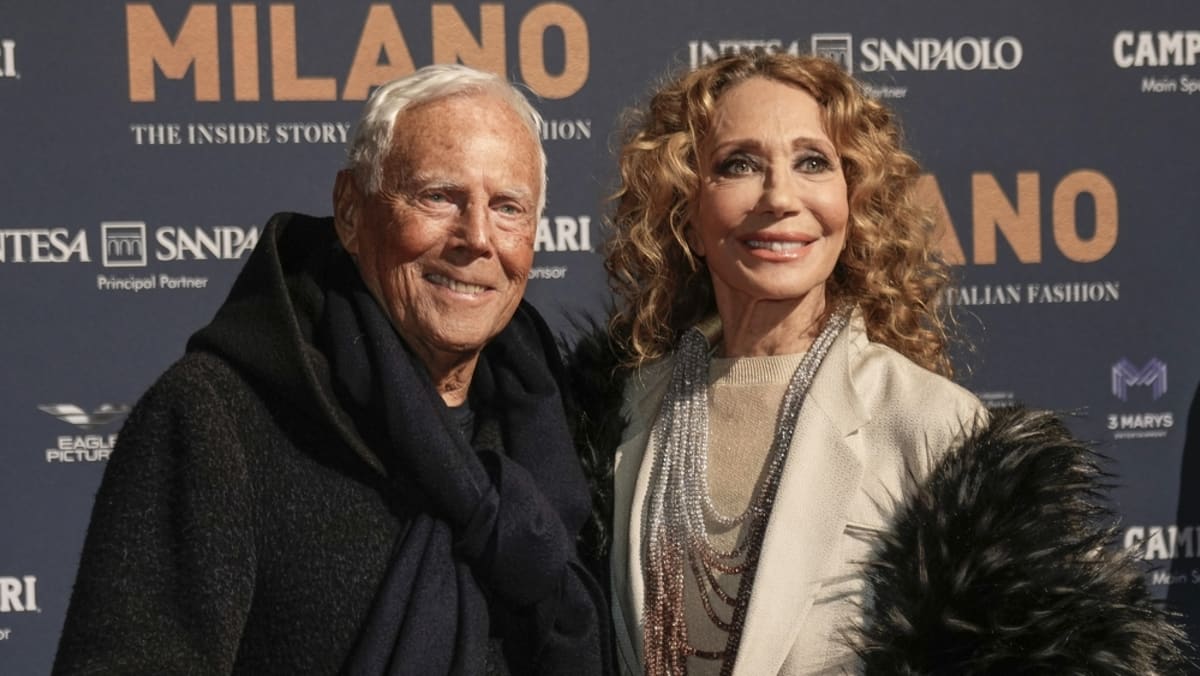 Armani at the heart of new documentary examining the birth of Milan fashion
Giorgio Armani and a slew of fashion CEOs turned out Sunday (Feb 26) for a premiere of the documentary Milano: The Inside Story Of Italian Fashion, by Emmy-winning filmmaker John Maggio.
The documentary gives due credit to Armani for putting Milan ready-to-wear on the map in the 1980s with the creation of the deconstructed jacket that made menswear sexy and relaxed, as epitomised by Richard Gere in American Gigolo.
"Fashion made me grow up and become someone. It was not easy initially, as I didn't feel up to it, but slowly I gained courage to want to be someone in this adventure,″ Armani said upon arrival at the premiere.
The 88-year-old designer, who presented his latest womenswear collection earlier in the day, received an enormous round of applause at the start of the film, when producer Alan Friedman introduced him to the very-fashion crowd as "the man without whom today Milan would not be the capital of fashion."
The documentary also recounts the competitive tensions between Armani and his classic elegance and Gianni Versace, who helped fuel the super model era with his more overtly sexy collections.
In the documentary, former Gucci creative director Tom Ford and ex-Gucci CEO Domenico De Sole discuss attempts to merge Gucci and Versace, which ultimately failed after Versace's 1997 murder under the insistence of his sister, Donatella Versace, that she remain at the creative helm.
In the intervening years, Gucci, along with many other Italian family-run companies have been bought up by French conglomerates, and Versace is now part of the US group Capri Holding. Italy has failed to come up with a fashion group of its own to challenge the French dominance; fashion houses like Armani and Dolce & Gabbana are among those that remain staunchly in family hands.
The documentary is expected to be released on a streaming service later this year.
Related Posts