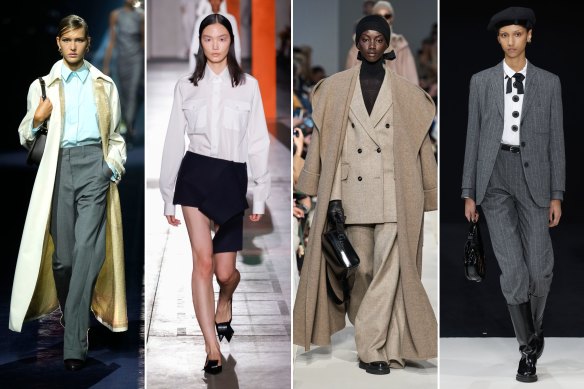 Fashion designers are doing workwear again
Workday frustration can strike before your first sip of coffee, opening an email that hopes it "finds you well" or hitting the one-hour mark of a 15-minute meeting. Decision paralysis descends the moment you look at your wardrobe. Will your boss take you seriously in an organic cotton T-shirt? Does the print blouse match your red tartan trousers? Is the peasant blouse too flamboyant?
The international runway adds to the confusion with lion headdresses, provocative cutouts and sheer fabrics, but this season designers were thinking of 9am to 5pm, rather than 9pm to 5am.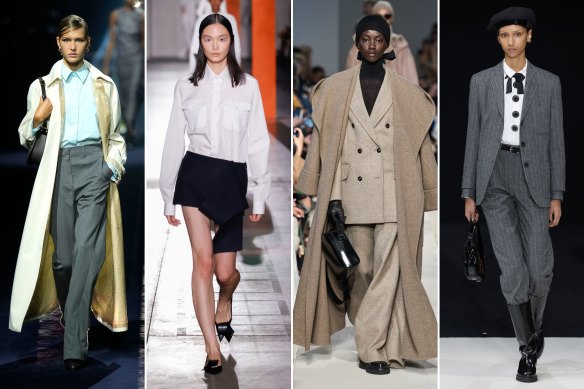 At the Prada show in Milan, luminous white shirts were tucked into sensible slim trousers while other models borrowed from designer Miuccia Prada's signature look of grey knitwear with a skirt.
"Beauty here is determined not by aesthetic, but by action – garments are signs, representations of the beauty of care, of love, of reality," Prada and co-designer Raf Simons wrote in the notes accompanying the show. Translation? Basics are back.
On the Fendi runway, a reality check also took place, with designer Kim Jones drawing inspiration from the business wardrobe of jeweller Delfina Delettrez Fendi, with bias-cut trousers in grey menswear fabrics worn with mackintoshes and ice blue shirts. The sequin lining of bone coats offered a surprisingly subtle style promotion.
"It all started with Delfina," Jones says. "There's a chicness but a perversity to the way she twists Fendi, which is what I love."
While some trends take years to travel from Europe, a more practical approach to dressing is already evident in Australia – sequins optional.
At Bassike, co-founders Deborah Sams and Mary Lou Ryan launched a capsule collection called Uniform this month, comprising essential jackets, trousers, shirts, singlets, merino knitwear and jersey skirts.
"It is inspired by the way I dress, which is probably a bit selfish," Sams says. "I've always worn draping pants with classic cotton shirts. It's classically Bassike and feels authentic to me."
Related Posts