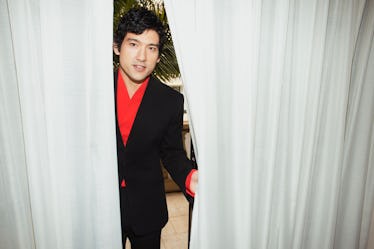 Getting Ready With 'The White Lotus' Star Will Sharpe for the SAG Awards
Will Sharpe is numerous things: a writer, a director, one of the many stars in the hit second season of The White Lotus. But he is not, by his own admission, a member of the world of fashion. In fact, he's far from it. "This is such a new world for me," he tells W over Zoom. "I don't know how you're supposed to talk about it. I don't know the phraseology." Despite that, it was Sharpe who was called upon to bring Maximilian Davis's sophomore collection for Ferragamo to the red carpet, just days after it debuted in Milan. It may have seemed like an odd choice—why not tap Uma Thurman, Hunter Schafer, or any of the other bona fide fashionphiles who sat front row at the presentation? But there's something about Sharpe that allows him to fit squarely into the vision that Davis has created for Ferragamo over the last two seasons.
"There's something that feels minimal and not overstated about what [Davis] does," Sharpe says of the designer's aesthetic presence at the Italian house. "There is a sort of quiet boldness to it, which is cool." As it turns out, there's some crossover with Sharpe in that sense. The actor may not be as outwardly raucous as others in The White Lotus cast, but there's no denying his presence, something he further proved when he stepped onto the SAG red carpet this past weekend in a custom look from Davis. The actor wore black pants and a collarless jacket with a tapered-in waist. Underneath, a collarless shirt (a "go-to" for Sharpe, according to his stylist Rose Ford) in Davis's newly signature red hue brought an unexpected element to the chic design. While not directly seen on the runway days before, the suit fit perfectly into the world Davis has created at Ferragamo—a world into which Sharpe has now officially been welcomed. Below, the actor discusses how the collaboration came about, winning his first SAG Award, and what he thinks happened between Daphne and Ethan on that island.
How did your relationship with Maximilian Davis come about?
It's a pretty new relationship. Basically, Max invited me to one of his shows, but I wasn't able to make it. [My stylist] Rose and Max started talking and I began learning more about him and gained an appreciation for his craft and artistry. He seems like somebody who is doing bold things with the brand.
Did you have any say in your SAG look?
Yeah, it was very collaborative. They threw a few different options on me and we discussed them. I really liked the red that I think is becoming their signature, so they were keen to try and find a way to work that in. Also, it was nice not to have to wear a tie—something a bit different.
By the way, congratulations on the SAG Award. What was it like to share that moment with the cast?
Everyone was so great in the show—I can't fault a single person. So for the ensemble to be recognized was especially nice, because it speaks to the work of everyone. It's nice to be recognized, even though those things are always quite surreal. Plus, it was nice to hang out with everyone. I hadn't seen a lot of them for a while.
You had quite the reunion weekend with The White Lotus cast, between the W Best Performances party and the SAG Awards. What is it like when you all get together after not seeing each other for a while?
It's weird, because on acting jobs you have to get close very quickly to work together and trust each other. So I find it's often the case that you can spend a long time apart, but when you reconvene, it's easy to click right back into it.
There's such love for the show, obviously, but also the cast—you all as actors and your relationship. Have you noticed that?
I have a sense of it, but I'm not on any sort of social media. I hear about that secondhand from friends.
Well, since you're not on social media, I will say people are very thirsty for you over there. How does that make you feel?
I mean, I'm definitely aware of how many people have watched and enjoyed the show. There have been more times recently where I've gotten stopped or asked to take a selfie, which is, almost always, just a very nice, pleasant exchange. But, no, [laughs] I'm just here for the work.
What does it mean to you to have been part of this project?
I'm very grateful and happy to have been a part of the show. What was great for me, I suppose, was that the show is about privilege, a certain kind of white privilege. This season deals with sexual politics, but also, toxic masculinity. All the men on the show embody different kinds of problematic male behavior, and Ethan is definitely not exempt from that. It creeps in a bit more insidiously with him, whereas with other characters it's more immediately apparent. And, as a British Asian man playing an Asian American, I was excited to play a character who is morally ambiguous. Ethan is neither a sickly sweet, out-and-out nice guy, a super nerd, nor a cartoonish comedy villain.
So, what do you think happened between Ethan and Daphne on that island?
The show leaves it ambiguous on purpose, but I do think it's heavily implied that something happened. I always felt like Ethan's actions came back to his feelings regarding his relationship with Harper, and his almost paralyzing fear of the possibility that they're not actually in a good place at all and their communication is awful. So he's trying to work out what to do about that, and, often, I'd say, making the wrong choices.
But that moment with Daphne, I suppose there's a vulnerability between the two, and subsequently some kind of moment of connection. And that creates the shift in Ethan that he perhaps needs to go back to Harper, and be more present. I think at the end, the future of the four of us is also left ambiguous. There's a sense of hope, but it definitely doesn't feel like a simple happily ever after. I don't know which side to land on, which I think is cool. There are questions hanging over the ending.
Would you return for season three?
Of course, but none of us know anything about what Mike is thinking. You'd have to ask him.
Related Posts