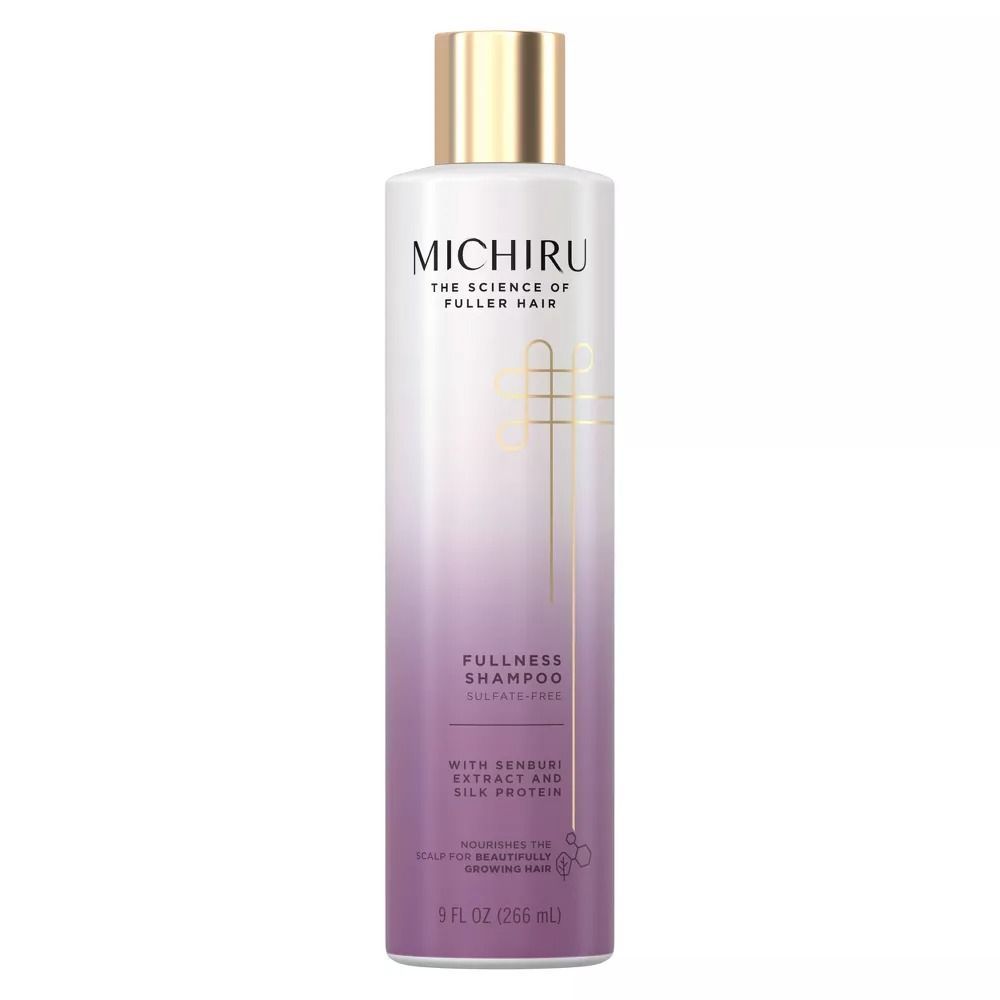 How BAZAAR's Beauty Director Tackles Thinning Hair
With years of product testing under her belt and expert advice in her knowledge bank, it's safe to say that Harper's BAZAAR beauty director Jenna Rosenstein has perfected the art of maintaining healthy hair. Still, even an industry veteran's carefully honed routine can face challenges.
After the birth of her son last year, Rosenstein began to experience postpartum hair loss. "Plus, he loves to grab handfuls of my hair and rip it out, so that's not helping," she laughs. While excessive shedding is a common condition for new moms and subsides over time, the episode inspired her to double down on healthy hair habits and reach for products that focus on the scalp. She's sharing her four-pronged approach to caring for her hair and combating fall-out below.
1. Concentrate on Your Scalp
One brand that's earned a place in Rosenstein's upgraded roster is Michiru, a Japanese line designed to address scalp needs for growing hair (michiru means "fuller" in Japanese). "I love any haircare formula with skincare-inspired ingredients that support a healthy scalp," she says. "A healthy scalp equals healthy hair."
Her current shower routine includes the brand's Fullness Shampoo and Conditioner, which contain senburi extract and silk protein. These formulas cleanse, nourish, and improve the scalp's blood circulation while utilizing polymers that create bond structures between each hair strand to thicken and amplify volume.
"The formulas make my hair so soft, and I noticed it felt bouncier after just one wash," she says. "Within a few weeks, I felt like my hair thinning was slowing and that I had control over it for the first time in months."
Pro tip: Rosenstein likes to use a scalp-stimulating shower brush to gently brush the conditioner through her hair before rinsing for a quick massage.
2. Don't Shampoo Every Day
If you have bangs like Rosenstein, or oil-prone hair in general, it can be tempting to wash daily, but that can cause dryness and brittleness—leading to yet more fall-out. "With bangs, I need to wash more frequently than I would like, but I try to only shampoo every other day," she says. "If I need to, I'll do my bangs in the sink in between."
3. Amp Up the Moisture
After showering, Rosenstein uses Michiru Scalp Tonic, a niacinamide-infused serum that's clinically proven to reduce dryness in two weeks of use. After applying it to her scalp, she follows with a leave-in conditioner on her ends for extra moisture, as well as a heat-protectant oil all over if she doesn't have time to air-dry.
4. Style With Caution
To prevent breakage, Rosenstein avoids manipulating her hair when it's wet and air-dries whenever possible. "I also wrap it up in a claw clip rather than an elastic," she says. "Tight elastics can really damage your hair."
5. Eat a Hair-Healthy Diet
Rosenstein has habitually followed a plant-based diet, but since becoming a new mom, she's become even more conscious of what she puts in her body. "I take a multivitamin to support my extra nutritional needs while breastfeeding, and I eat a lot of healthy fats like nuts and avocados to support healthy hair growth," she says. Consult your doctor to determine what nutritional changes might be right for you.
Related Posts