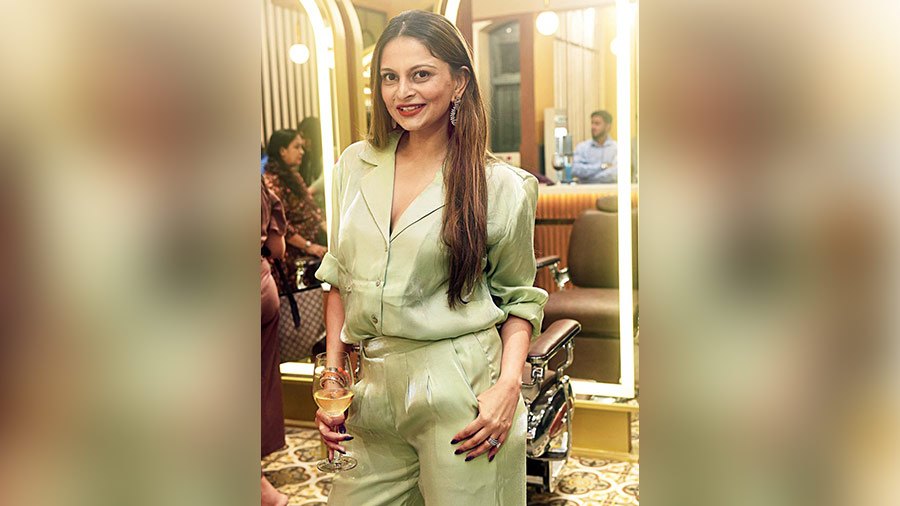 Kolkata Salon – Swastika Mukherjee and Raima Sen on their beauty rituals
Looks Salon, the national salon chain that recently opened doors in Kolkata at Park Street's Park Mansions, hosted its grand launch party earlier this month with actors Swastika Mukherjee and Raima Sen as the guests of honour. The Telegraph caught up with the two beautiful actors at the salon's sprawling service floor for a chat on beauty and more:
What is beauty according to you?
Swastika: Definitely doesn't lie in the eyes of the beholder! (Laughs)
Raima: Beauty for me is not just a beautiful face. At first, we always see the outward appearance but a person has to be a good human being. I think beauty has got a lot to do with who you are inside as well as outside. For me, beauty is simplicity, honesty, and also imperfection. A little bit of imperfection. Nowadays, everybody has started looking the same with all these new treatments, so I think imperfection looks very refreshing these days.
Is there a time in your life that you remember being particularly conscious about beauty or looks?
Swastika: I was never conscious. There was a time I was conscious of my body. That was during the initial years of my career. People were really judgemental. Not that they aren't now but they were more 15 or 20 years back. Specially towards women who are in the film and glamour industry. So in the initial days of my career, I was very conscious about how my body is and how it is looking in front of the camera and all of that. But it was mostly work-related. Not a personal criticism.
Raima: I think when my mother (Moon Moon Sen) joined films again after we (Riya and Raima) were born… I think around 11 or 12 were our conscious years. When she would leave for the shoot, we would stand in front of her dressing table for hours seeing her doing her make-up and hair. I think as a teenager one becomes more conscious, that is the most awkward stage or coming of age as they call it.
Has the idea changed for you over the years?
Swastika: I feel it has changed quite a lot through the Internet and with social media constantly rising and shining in our lives. We are much more open to what is going on in the world. We also get to read about a lot of famous people who have influenced our thoughts about body, beauty, lifestyle and fashion. With all that access you become more aware. Generally, for people the stigma attached to plus-size… we have become more open and look forward to seeing ordinary human beings also wearing branded clothes and designer shoes. Until one point it was only a zero-size female model in such clothes and shoes. Now, we are also wanting to see people in normal day-to-day life carry these because fashion should be for all. It should not be catering to one size or skin colour. We want more normalcy and we have become more accepting. Women who have gone through pregnancy have gone through immense weight gain and loss, we were very concerned about stretch marks. There was a lot of reservation, shame and a need to hide them. But nowadays I have stopped hiding them. I try to flaunt them with a conscious mind and I have seen many women or models for very big designers… they show their stretch marks, their love handles because that is what normalcy is. It is important to accept women's bodies as they are.
Raima: We were all so caught up in everything but then Covid happened and we were all taught that life is so fragile. Now I have changed my definition of beauty because of all that we have been through; we have to look within for beauty. That shallow definition of beauty is out of my dictionary. People should not ape to be like someone else. You should be who you are. That is the most important thing for me.
Who is the most beautiful person in your life?
Swastika: There are a lot of people… but as a mother, I will always say it is my daughter (Anwesha). Any parent would say that. It is difficult to objectively answer that.
Raima: My grandmother (Suchitra Sen) and Gayatri Devi were beautiful women because not only were they beautiful from outside, they were very strong, independent and intelligent women. Even my mother is.
What is the best beauty advice you have received till date?
Swastika: I don't have a lot of people advising me on beauty… maybe life advice but not beauty advice! (Laughs)
Raima: My mother gives me. She always gives me tips on maintaining my skin and hair and staying healthy. There is no final advice on beauty. It is just an ongoing process. But I do drink a lot of water, internally one must look after themselves. Stay fit and eat healthy. Cheat days are fine, but on other days eating healthy is important. Moreover, when one is inwardly happy it reflects on the skin.
Tell us about the three most important beauty rituals in your daily schedule…
Swastika: Drinking a lot of water. When I am working, I have told everyone to remind me to keep having water. For me, it is about having good skin. It starts and ends there. With good skin, one will need less make-up. Taking off make-up is very important for me before going to bed. I don't understand much about products. My daughter guides me. I think one should also not settle for any inexpensive products. It settles on the skin and causes harm over prolonged use. I don't use exorbitantly priced products myself but using the right ones are important. When we are young, it doesn't show but the side effects show up with age.
Raima: I use a face wash every day and of course, my serum or face cream. I have started using sunscreen a lot. I oil my hair twice a week and do a hair spa once a month. Maybe go for a hydrating facial if my skin feels too dry. I always listen to my body,  it always tells me when I want to eat something or need a beauty service. And sleep is very important. I don't get enough but getting enough sleep is important and I try to drink a lot of water.
All of us have beauty bummer moments on some days looking at ourselves in the mirror. Do you have such moments and what is your pick-me-up trick in such situations?
Swastika: Yes, yes. I also have good face days, bad hair days. I constantly keep asking people around me if my hair is looking alright or my face is looking alright… I think I am in my sulking mode on bad skin or hair day. I need people to tell me it is okay. If I am asking somebody this question and the answer comes as it is looking okay then I ask that means it is not looking nice… so people who answer have to answer properly. (Laughs)
Raima: I think everyone goes through bad hair and bad skin days. I don't think anyone wakes up beautiful but then I know it is the weather or something I have eaten, I don't take it that seriously. I have my hacks by now. I don't stress, I know it will become normal.
A quick fix to all your beauty problems…
Swastika: Chandan paste is the best thing to take off tan and tiredness from the face. But the paste should not be made of the powder we get in pouches in the market. It is the one we make at home with the sandalwood stick.
Raima: Sleep! For me, if I have slept enough then it just shows on my face. Even if I am stressed or paranoid about something, if I have a good night's rest, everything will be looking fine. I don't deprive myself of sleep. Even if it is for 10 minutes, I just do it because I know I will feel fresh.
A beauty product you are obsessed with?
Swastika: A moisturiser called Emolene, introduced to me by my make-up artist in Bombay. There is also a make-up cleanser from Innisfree that Anwesha introduced me to.
Raima: I love experimenting with things. But for all these years, Boroline and coconut oil have remained with me.
A must-do during a pamper visit to the parlour…
Swastika: Foot massage.
Raima: My favourite thing to do is hair spa, blow-dry, manicure and pedicure. Maybe a hydrating facial, if my skin feels dry.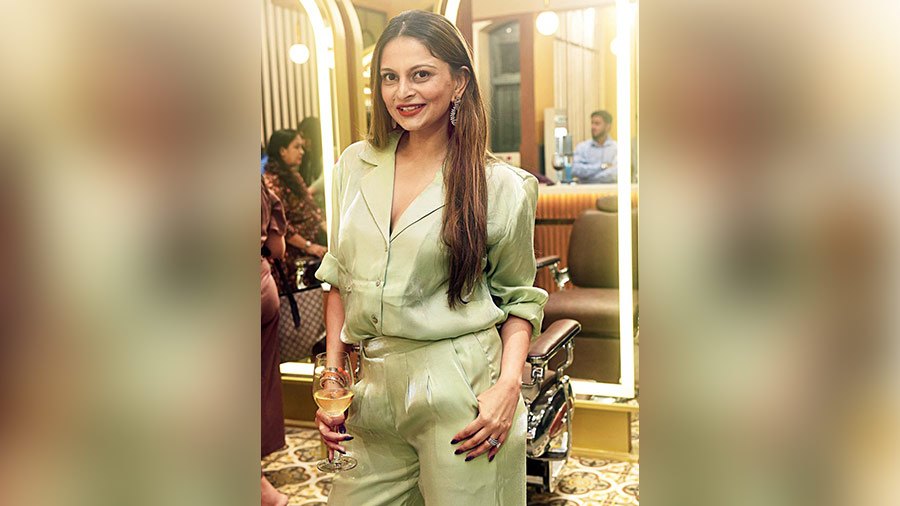 It was an incredible and smashing start of Looks Salon in the City of Joy. It was great hosting this happening brand in the city. Swastika and Raima were our special guests for the evening, two of the most glamorous people who reflect beauty and poise. So, having them with us on the launch day was the perfect start of the journey that Looks is about to have in this city— Davina Thacker, who hosted the launch
Pictures: Pabitra Das
Related Posts