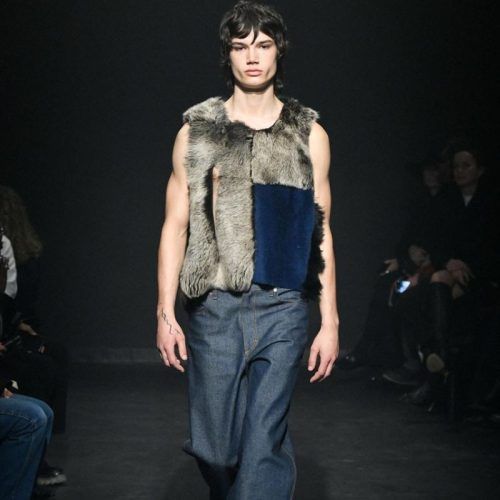 London Fashion Week 2023: The Best Of Menswear
After the New York Fashion Week, the fashion party has now moved to the London Fashion Week. Kickstarting on February 16, the fashion week will continue till February 21.
This season of the London Fashion Week is quite special since Daniel Lee, the former creative director of Bottega Veneta, will be presenting his debut collection at Burberry and stepping into his new role as the brand's creative director. Other showcases include JW Anderson, Simone Rocha, Christopher Kane, Nensi Dojaka and Ahluwalia.
While womenswear might be the focus of the showcases, we were quite impressed with what we saw on the menswear runways, including witnessing some exciting trends for the upcoming Autumn/Winter 2023 season.
London Fashion Week 2023: Presentations by the designers
Burberry
The highly-anticipated debut of Burberry's new creative director Daniel Lee was the highlight of London Fashion Week. Lee has been known for reviving Bottega Veneta by introducing leather goods and accessories in pop colours, making them popular with youngsters. It looks like he is following a similar blueprint for Burberry's debut collection. The collection saw bright colours such as electric blue, dark purple, hot pink and yellow that incorporated the house's signature striped print in multiple ways. Previously, Lee brought back the old Burberry Equestrian Knight logo from 1909, setting his first collection on the right path by paying homage to the house.
JW Anderson
At JW Anderson's Autumn/Winter 2023 runway, the designer revisited his past collections and brought in some archival elements in his own unique way. The collection featured statement oversized t-shirts and fuzzy knitwear as well as leather pieces and tailoring that stood out.
Simone Rocha
Simone Rocha's Autumn/Winter 2023 collection at the 2023 London Fashion Week proves, yet again, that she is one of the most important names in the industry. For this showcase, she sent models down the runway in neutral hues as well as dark shades such as blacks and metallics. The runway also saw classic pieces such as long coats, jumpsuits, blazers and suits wrapped in mesh, lace detailing and beaded embellishments.
Robyn Lynch
In Robyn Lynch's latest collection, we see multiple shades of green in different clothing. Think knitwear, bomber jackets and leather pants all in green hues such as sage, mint green, forest green and hints of neon green. Other colours such as white, sand, navy and teal also dominated the showcase with models walking down in structured silhouettes paired with accessories like bags and scarves.
Ahluwalia
For her Autumn/Winter 2023 collection, Priya Ahluwalia offered a new take on her Indian-Nigerian heritage. Colours were the focus of this collection with shades such as neon pink, forest green, orange, red, sky blue and camel dominating. Men were spotted in velvet jackets and mesh pants, as well as geometric printed shirts, co-ord sets in tie-dye prints, bomber jackets and even a set of '70s suits.
LABRUM
LABRUM's latest collection at London Fashion Week titled 'From Greener Pastures', speaks of reuniting families that are separated by land, sea and water. An ode to Western African culture, the designer wishes to bring his heritage to global audiences. The models strutted down the runway in loose suits, denim jackets with pants, bomber jackets with patchwork, loose shirts and loose co-ord sets that featured prints and ruffles.
Mowalola
Mowlala's latest collection pays homage to New York City. The presentation saw staple American clothing especially New York-centric hoodies, symbols of the New York Yankees on denim and leather jackets, classic distressed acid wash denim jackets, long leather coats and tank tops.
(Hero and feature image credit: Courtesy Instagram/LABRUM and JW Anderson)
Frequently Asked Questions (FAQs)
Question: Who were the designers at London Fashion Week 2023?
Answer: For 2023 London Fashion Week, designers such as Burberry, JW Anderson, Simone Rocha and Christopher Kane showcased their collections.


Question: Does London Fashion Week happen once a year?
Answer: London Fashion Week happens twice a year.
Question: Is London Fashion Week open to the public?
Answer: While a few shows are open to public, most of the shows can be attended through invites only.
Related Posts