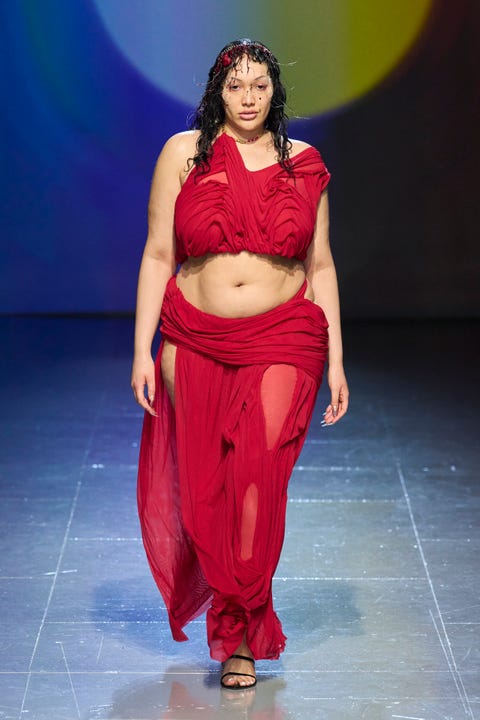 The Great Navel Gazing Trends Of London Fashion Week AW23
After years living under the threat of low-rise jeans' return, the moment has most certainly arrived. Seen on the likes of Julia Fox and Bella Hadid in recent months, Net-A-Porter's Market Director Libby Page confirmed to us that the style is back with a bang: '[Low-rise jeans were] featured in over half of the shows at fashion month, and are a clear continuation of the Y2K trend we first saw take hold for SS22.'
But, it isn't just denim that's receiving the low-slung treatment. According to London Fashion Week, most waistlines are heading south. With a new drop-waist silhouette seemingly comes an emphasis on all things hips; puff ball peplums and exaggerated shaping on hipbones will be everywhere for AW23.
If you're already having horrid flashbacks to the disturbing Noughties' fascination with size zero the last time all things low-waisted were on trend, let us reassure you that this time around, everyone is invited to the belly-baring party.
Celebrating all types of bodies, with a big emphasis on all things tummy, Di Petsa sent her diverse cast of models down the runway in plenty of low-slung skirts, even casting one pregnant model (as did Sinead O'Dwyer this season) and placing fake bumps on others.
Fashion East's Karoline Vitto hired only mid and plus-size models for her decidedly sexy catwalk show, exposing their lower midriffs in teeny two-pieces that were expertly fitted with metalwork.
Despite the new inclusive approach, skin-baring still isn't for everyone. Enter Standing Ground, another designer on Fashion East's runway this season. Designer Michael Stewart demonstrated the power of the pelvis with no flesh on show at all, simply adorning jersey gowns with belt-like attachments, and sculpting exaggerating hipbones through internal corsetry.
Similarly, JW Anderson opted for a more modest take. In his grand retrospective show the Northern Irish designer played with proportions, placing emphasis on the drop-waist with jumpers, jackets and coats.
But if minimalism is not for you, you'll be glad to see puffball peplums are back on the menu.
Last seen in the mid 2010s, and the 1980s before that, Christopher Kane sent a menagerie of ruffled peplums down his AW23 runway, with a red leather skirt quickly becoming one of the most coveted pieces of the season thus far among editors.
Designer Marco Capaldo of 16Arlington filled his sultry (coffee ground-covered) runway with hip-height feathers and sequin puffballs, while Connor Ives closed his annual show with a drop-waisted, XXL puffball skirted wedding gown.
Of course, with the return of a silhouette comes the desire to buy something new, but thankfully designers have offered up simple styling tricks to help you try the trend for a lot less.
At Molly Goddard – which was a show all about the joy of dressing, set in the intimate space of East London atelier and styled by her sister, Alice Goddard – we saw school-style jumpers pulled down low over tulle party dresses. The look most closely echoes the drop-waisted vision we know of the 1920s flapper shape, which many trend forecasters predicted would return a century later.
And at Talia Byre (an emerging designer known for her knitwear) tunic shirts were left untucked over mini skirts, offering an easy way in to the somewhat intimidating shape.
Clemmie Harris, Head of Womenswear and Menswear at Harrods, concurred that these drop-waisted shapes have run the gamut at London Fashion week, telling ELLE UK: 'From wearable, everyday options from JW Anderson and 16Arlington to Simone Rocha and Emilia Wickstead for the evening; we've seen peplums and voluminous silhouettes in the all-important sequins and embellished fabrications as well as heavy silk faille and structured leather. The added glamour and drama these shapes give is hugely aligned with what our customers look for season on season.'
So, whether you're game to belly-flop straight into the deep waters of exposed stomachs, or simply want to dip your hip in the drop-waisted pool, there are plenty of ways to navel gaze come AW23.
Related Posts