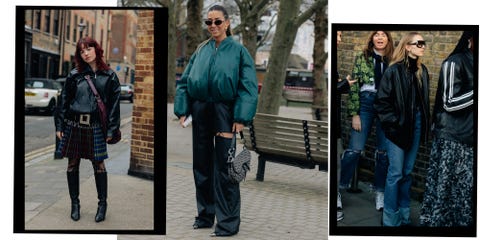 These Are The Street Style Trends We Spotted At London Fashion Week AW23
While the runways of London Fashion Week AW23 predict the trends of the future (drop-waist everything, we see you), it's on the backs of editors, buyers and influencers sitting front row where the trends of now are really taking shape.
Thankfully, we had Darrel Hunter of Modehunter out on the streets of London capturing the parade of looks on show-attendees, so we know what pieces were popular with London's tastemakers. Leather bomber jackets, back-to-school-style skirts, XL trouser cuffs and Tabi shoes were the true stand-out street style stars this season, let's take a look where to shop and how to style them now.
Leather Bomber Jackets
While motocross jackets were still absolutely everywhere this season, leather bomber jackets are set to take over next. Pulled in as the waist, with a generous puff, they are as comfy as they are cool.
The hero of the trend has to be Loewe's padded leather bomber, worn above with silky trousers, a Dior saddle bag and stiletto heels. This is a great trend to try out by looking for a vintage option, and can be dressed down with denim, or a midi skirt.
Back-To-School Skirts
We saw pleated skirts, that look straight from the school gates, all over the runway and front row at fashion week. Often midi in length and in a dark grey, Miu Miu's version is at the top of our wish list.
Making sure the school look is well and truly communicated, we're pairing this skirt with white socks, loafers and a pullover. Pigtails are optional.
XL Trouser Cuffs
While scanning the shoe choices of those in the know, we noticed more trouser cuffs than not were turned up to the max. The great thing about the XL cuffed trend is you can work with what you've already got. Turn up the longest trousers you have and voilà, you're on trend.
And, if going DIY isn't really for you, Loewe's leather-trimmed jeans perfect this exaggerated look. We're wearing ours with ballet flats and breton stripes as an Audrey Hepburn homage.
Tabi Shoes
We know, we know, Maison Margiela's Tabi shoes are a classic at this point, but in the last year we've really seen a resurgence of the cloven shoe, and this London Fashion Week, it was no different.
There are so many Tabi options to go for, since they are available as boots, ballet flats and loafers (as seen on vintage seller and stylist Londiwe Ncube above). A frontrunner style, however, are the Mary Jane leather flats, perfect for dressing up or down.
And, if Margiela is slightly out of your budget, may we suggest Brighton-based boutique Wolf & Gypsy Vintage's cotton Tabi-style flats?
Related Posts